Healthy Spinach And Artichoke Dip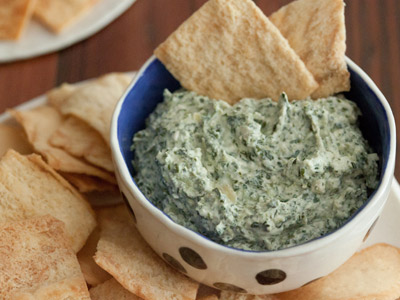 10-ounce bag fresh spinach
6 ounces (3/4 block) 1/3-less-fat cream cheese, softened
6 ounces (3/4 block) fat-free cream cheese, softened
1/2 cup fat-free sour cream
1 1/2 cups part-skim mozzarella, shredded
1 (14-ounce) can artichoke hearts, drained and chopped
1/4 teaspoon freshly ground black pepper
3 garlic cloves, crushed (not minced)
6 tablespoons shredded parmesan cheese, divided
1.      Preheat oven to 350°F.
2.      Tear spinach into bite-size pieces, removing any thick stems. Rinse in a colander, leaving a little water on the leaves. In a large nonstick skillet or Dutch oven, sauté the spinach over medium heat until wilted. Drain in the colander, pushing a little of the extra water out.
3.      In a large mixing bowl, combine the cream cheeses with a potato masher. Add sour cream and mash more. Add spinach, mozzarella, artichokes, pepper, garlic, and 2 tablespoons of the parmesan. Stir everything until thoroughly combined.
4.      Pour mixture into a 1 1/2 quart baking dish. Sprinkle remaining 1/4 cup of Parmesan on top. Bake 30 minutes, or until parmesan is melted dip is all bubbly.
recipe & photo via www.joeydfitness.com